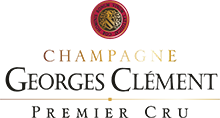 Champagne Georges Clément
BRUT 1er CRU - BLANC DE BLANCS
A white pure and delicious white chardonnay
reveals all its subtlety , freshness and accuracy
aromas.
Its charming nose complemented by crisp mouth
forms a delicate and subtle together.
A completely mastered cool then allows the
enjoy an aperitif , as on most refined dishes.
Assembly :
Chardonnay 100 %
Average age of vines : 27 years
Soil: Limestone covered with a thin layer of topsoil
Appearance : Pale gold shiny.
Aromas: complex and delicious aromas , candied lemons,
grapefruit, hazelnuts, refined slender mouth.
Taste: Brut
Tasting: Oysters, seafood, fish, braised .